Kiersten White
Sep 01
Hey! Hi! So! It's September!
EVERYONE PANIC.
Oh wait, you mean, you don't have a book on sale (the MIND GAMES eBook is $1.99 right now), a book coming out in paperback next week (THE CHAOS OF STARS, which is even better than just the quotes pulled from it and beloved on Tumblr), AND my final new release until 2016?
That'd be ILLUSIONS OF FATE, which NYT bestselling author Stephanie Perkins calls "an absolute delight."
And, since she herself is an absolute delight, she's an expert on the subject!
Anyway, in between all that and going on tour I also have to start making serious writing progress again, so: Dear September, I am panicking, please be kind.
I can do this, right?
Aug 31
[video]
Aug 29
ILLUSIONS OF FATE by kierstenwhite

09.09.14
BIRDIES.
Aug 27
sknipps said: Can I just say that the way you and a couple of my other favorite YA authors interact all the time online makes me ridiculously happy and I hope someday I'll be able to have something like it becuase I'll be a writer? Anyway, it makes me super duper happy that you guys all seem to be friends and supportive of each other and all that jazz.
Aww, you cutie! It makes me happy, too. But I'll tell you a secret. It seems like we all know each other, and there's the sense that we've always known each other. However, most of my good author friends I met after I got my agent/got a book deal/became a published author. When I started writing I didn't know a single published author. I didn't even know any other aspiring writers.
As you pursue a career in publishing, other writers are your peers and stand-ins for coworkers. You know the same people, you go through the same things. It bonds you. Twitter and Tumblr are like our office water cooler.
I say this just in case you sometimes worry that it's some sort of CLUB you must already be a member of in order to break into publishing. Nope! Your writing breaks you into publishing. Your shared love of writing and books (and also shared really dreadful experiences) cements you to other authors as Internet (and sometimes real life) BFFs.
"Phones are distracting. The internet is distracting.The way he looked at you? He wasn't distracted. He was consumed." —
Stephanie Perkins, Isla and the Happily Ever After (via quoted-books)
Oh, Steph, you always make me swoon.
(via yahighway)
Anonymous said: Hello! I have a question about MY TRUE LOVE GAVE TO ME. Do you happen to know if we should read the stories in the order they are presented? Or if it would be fine to skip around, while reading for the first time? Thank you so much! (My apologies if this would be better posed to Stephanie!)
This is an EXCELLENT question!
And the answer is:
Yes.
(Meaning, however you want to read it is a good way to read it. I often skip around in anthologies, reading the stories or authors I am most intrigued by first and then finishing it up. However, I know in many cases [and in this case specifically], the editor is very careful with story placement so there is a sort of flow and balance to the stories. For example, if two stories have a similar element, they'll be placed further apart. Or, if fewer of the stories feature, say, male protagonists, they'll be alternated so there is more variety when reading from cover to cover. Stephanie Perkins was very specific in the way she placed the stories, so there is some benefit to reading that way. BUT it's an anthology! Read all at once! Read one story a week! Savor or binge or do both! It's up to you!)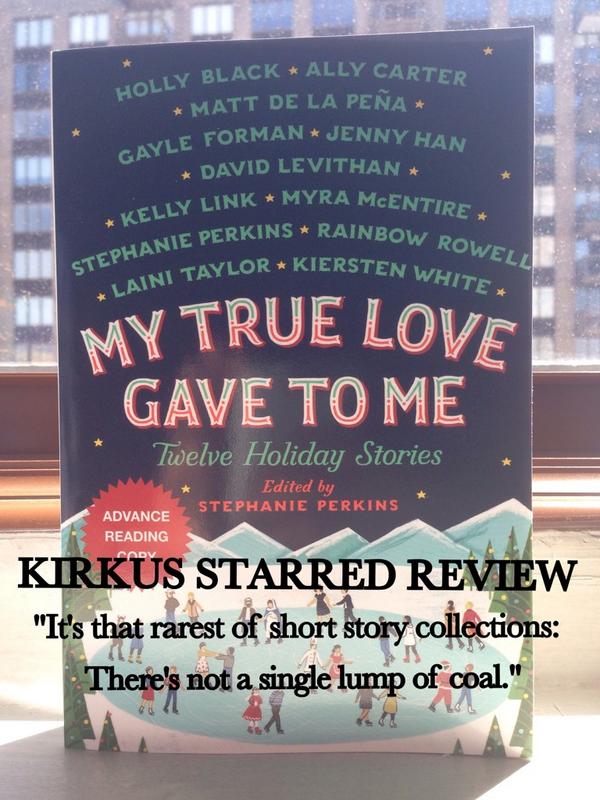 AWW YEAH. (Mine's the one set in "census-designated place Christmas, California"!)
Aug 26
theravensbluediadem said: I went to see this mummies of the world exhibit and I kept seeing all the Egyptian gods and kept thinking of Chaos of Stars and if Isa would like it and what she'd think.
First of all, I'm jealous! I love those kinds of exhibits.
Second of all, my delight over the fact that you took a fictional character along with you in your head? Pretty much infinite! Thank you for making Isadora a part of your life.
Third of all, she would have loved it, and provided you with a running commentary on all the things the descriptions got wrong, plus a lot of genuinely horrible stories about her extended family of gods and goddesses.
Oh hey, that's pretty…
The UK cover for My True Love Gave to Me. Look at those fantastic pink pages! I'm so proud of the stories inside this gorgeous-looking anthology.

Holly Black! Ally Carter! Matt de la Peña! Gayle Forman! Jenny Han! David Levithan! Kelly Link! Myra McEntire! Rainbow Rowell! Laini Taylor! Kiersten White! Edited by (and with an additional story by) me!

To learn more about our UK edition, please visit My Kinda Book.
I luuuuuurve this anthology! And HOW CUTE is the UK edition?! Definitely one to add to your Goodreads shelves and pre-order.